Points2Shop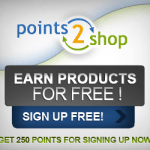 Point2shop, often called P2S is a privately held company inaugurated 7 years earlier in 2007. Its headquarters are in Alpharetta, Georgia. Across 200 different and wide ranges of countries, P2S works as a provider of online as well as mobile loyalty programs among its more than 4.5 million users. You can read a review about P2S here.
Join Points2Shop
SwagBucks

Swagbucks is also an online reward program. Its real provider is Prodégé and the sites headquarters resides in Los Angeles started the site in 2008. Swagbucks work on the everyday web activities by its users and extend virtual currency to them. This virtual currency further provides them with real life awards. You can also check out Swagbucks review.
Visit Swagbucks
How Points2Shop Works?
Point2shop works in a very simple manner. Not even a single penny is required to sign up on the site. Unless you chose some paid offers, which has its own another column at the site, you need not spend a dime. Unlike hoax websites, P2S will not ask your credit card information and bestow online privacy to you. Once you register yourself, you will get automatically registered at Cashle – old name of P2S (it provides direct cash incentives rather than rewards). Now you just have to earn points and redeem the points to earn different rewards. 1 point at P2S is equal to 1 cent at Amazon. Also, on sign up you get 250 points that is equal to 2.50$. You will earn these points from following options
• Offers- These offers generally includes clicking links, completing surveys, viewing ads, etc. some offers are paid/trial and some are free of cost.
• Games- Users are asked to play some specific game to earn points.
• Referrals- Referral refers to adding up ones friends and family to P2S. The user will get 50 points for each referral.
• Weekly Lotteries- lotteries do not guarantee any amount, if you get yourself lucky you can win up to 10$.
• Monthly Contests- Different contests are held for prize of 15$ to the winner at P2S.
How SwagBucks Works:
Swagbucks, quite similar to P2S works in almost manner. At swagbucks, you earn a SB (swagbuck) for every activity of yours instead of a point. For every amount of SB, the corresponding rewards get assigned to the user. To redeem the swagbucks, you can choose from the following options- Rewards Store- Amazon, iTunes etc, Swagstakes and Local Deals. There are substantial options given to the user to earn the SB's-
• Searching- just search the web with Swagbucks tab and you can get random SB's.
• Special Offers- these include signing up on other sites, watching advertisements, downloading apps etc.
• TV- watch videos just like you do on Youtube and earn SB's!
• Shopping- Includes Coupons, Daily Deals, and Shop and Earn
• Surveys- complete the surveys and earn much higher than any other activity.
• Special Tasks- this usually consists of collecting data for other companies.
• Trade-in – the user can trade their videos or games for SBs!
• SwagCodes- collect and enter the swag codes to earn SB's.
• Referral Programs, and Daily Goals
Conclusion:
With both options providing exhilarating results to add-up your pocket money it ends up to be your choice whether to go for Point2Shop or Swagbucks! But honestly i prefer Points2Shop.