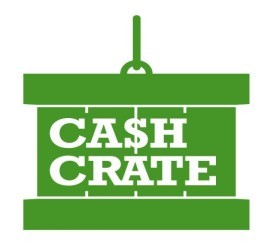 Cashcrate is a well- known website that pays one, for taking opinion polls through detailed surveys. This website has been in existence since 2006 and is based in Las Vegas. The authorities claim to have over 2 million users all over the world. The company has an A rating with the Better Business Bureau.
How It Works?
No, you do not need to pay anything, as in many hoax sites. Here, you just need to register by signing up which is very simple and does not take much time. At CashCrate; your Name, Postal Code, Password etc. are required for signing up.
You earn points by taking the some surveys. Once you complete your survey, the website verifies if you have successfully completed it and then transfer the funds to your account.
However, the surveys take quite a long time to complete; there are some additional offers that do not belong to CashCrate at all.  It offers services like online shopping, playing games, watching videos and many more. With every offer you complete, your reward increases.
Referral System is also very popular among Cashcrate users. It has two levels in which you get paid 20% of what your referrals make and 10% of what their referrals make. As you refer more users to CashCrate, the levels increase until 'n' unless you are earning as much as 30% of your referral's earnings and 20% of their referral's earnings. The website claims that some members are earning over $1,000 a month just by referring new users to their free program.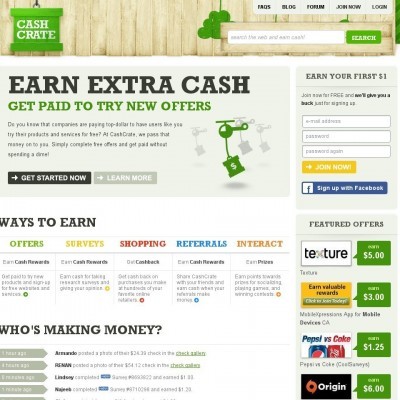 Redeem Your Points
Users who get their minimum payout (about 20 $) usually get the payment processed by 20th of every month. The users can get their points exchanged via PayPal cash out or gift cards with Amazon and eBay. If none of the above is your choice, you can even make custom orders with Amazon or eBay in which you can use your points to shop online without using your credit card or PayPal account.
Digging A Little Deeper
As far as working process is concerned, the working of CashCrate is similar to that of other online survey sites. Every company requires opinions about its new products to be launched as soon as possible to maintain their stake in the market whereas people get to learn a lot of things in addition to some earning as well. Cashcrate, fulfills the requirement of both the clients as it is not a market research company. It just works with other research companies by providing them a platform for conducting online surveys. One common setback that is often complained by the users at CashCrate is about getting a chunk of spam mails once they register on the site. The user interface is quite simple and handy to work in for both the parties.